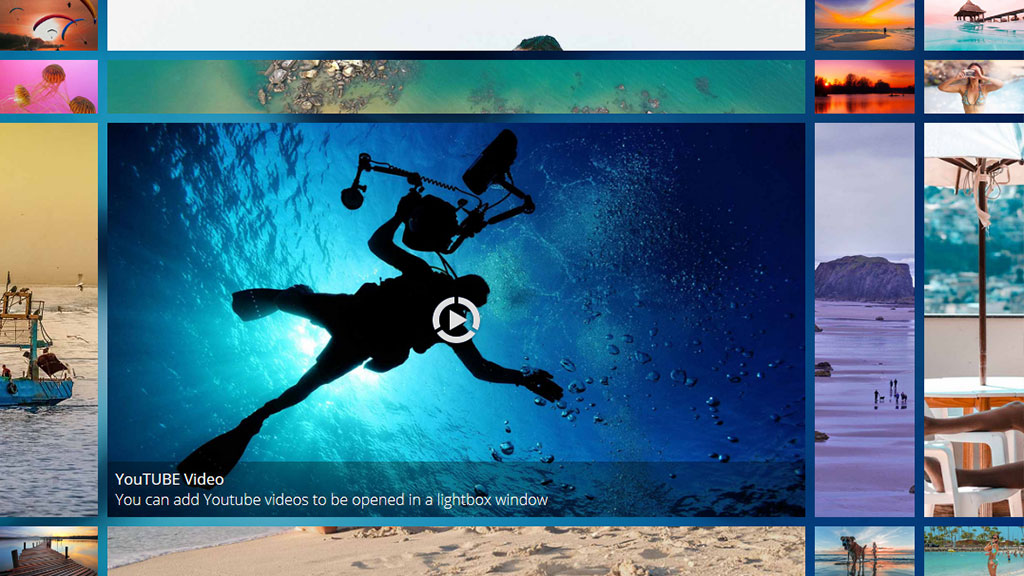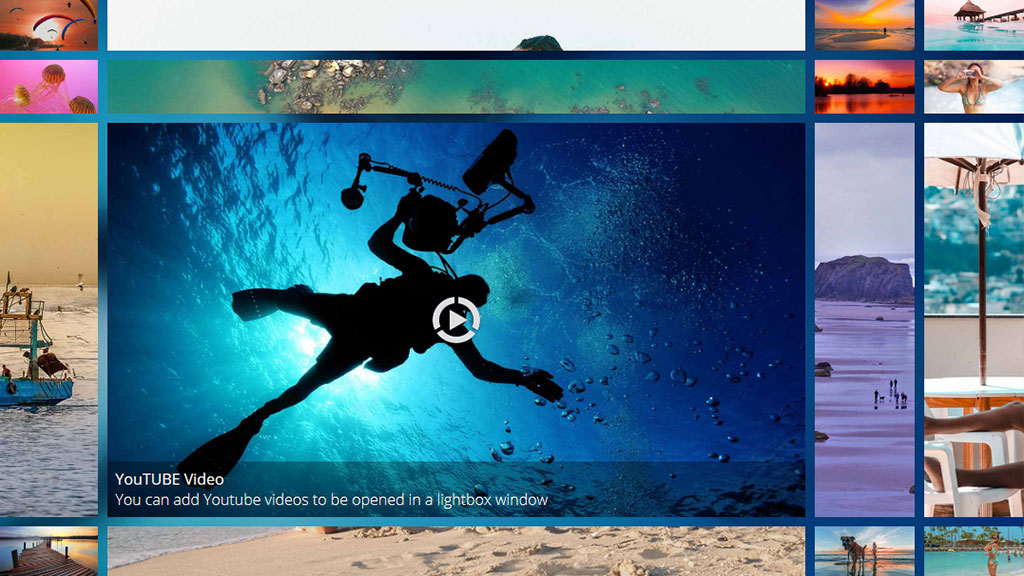 02 Oct

12 Best Image & Video Grid Gallery WordPress Plugins Ideas

If you want to display portfolio galleries or videos on your site in an attractive way, to showcase your work in grid, to sort your clips in a precise order, or to add hover effects, check bellow some user-friendly Image & Video Grid Gallery WordPress Plugins wich I consider the best options for you. In stead of wasting your time to find the ideal plugin, all you need to do is to choose one of these and be creative with your site content.
1. Famous – Responsive Image And Video Grid Gallery WordPress Plugin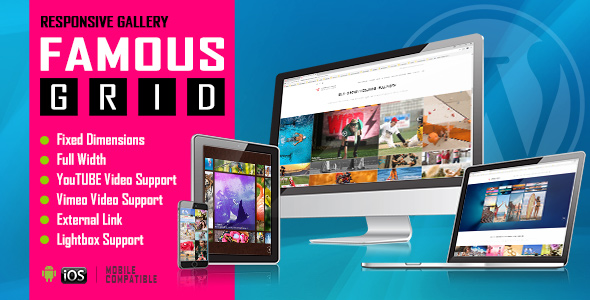 Enjoy this freshly launched and already famous, powerful and elegant multimedia grid gallery wordpress plugin with support for images, YouYube & Vimeo videos in a lightbox window. With a cool zoom effect on mouse over (or touch on mobile devices) it will make your website look awesome and memorable.
Product Features:
Cool Zoom Effect
The images have on mouse over (or touch for mobile devices) a special and smooth zoom effect customizable from parameters (speed, easing)
Responsive Design
The gallery will adapt to the width of any device, screen and orientation. It has full width or centered option.
Multimedia Support
Images, YouTube video and Vimeo video.
Lightbox Support
The Images, YouTube videos and Vimeo videos will be opened in a lightbox window
It Supports Links for Each Image
with parameter for _self or _blank
Share
You can share the large image opened in the lighbox on Facebook, Twitter or Pinterest.
Deep Linking
The gallery supports deep linking to a image which will be opened in lightbox automatically.
SEO
You can set a description for each image which will be indexed by the search engines
Read Folder
Option to automatically generate the gallery playlist from a folder which contains the images.
Multiple Instances
You can insert multiple galeries on your website or on the same page
Multiple Parameters
– width & height
– rows and columns
– image title and description
– and more…

2. Smart Grid Gallery – Responsive WordPress Gallery Plugin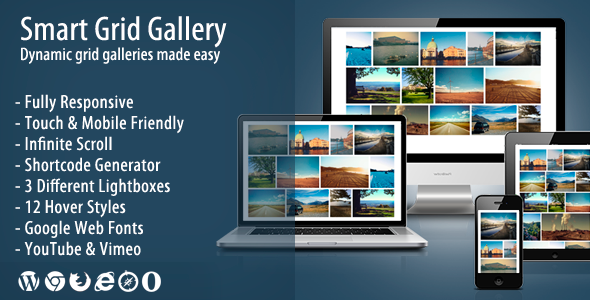 Responsive WordPress grid gallery plugin to create dynamic images grids with lightboxes, CSS3 animations and support for YouTube and Vimeo videos. Turn any WordPress shortcode into dynamic grid gallery with many options. Yes, it is responsive and touch friendly.
Features list for this WordPress Grid Gallery:
NEW! Infinite Scroll – and "Load More" features
Template Tag – use in your theme templates
gallery – use native WordPress gallery shortcode
Documentation – detailed documentation included
Shortcode Generator – easy to add many of options
Customizable – many options to create different layouts
Responsive – fully responsive layout
Touch Friendly – support touch devices like iPad/iPhone or Andriod
CSS3 Hover Effects – 12 different caption hover effects
YouTube and Vimeo – easy add videos for any image
3 Lightboxes – PhotoSwipe, Magnific Popup and Swipebox
Google Fonts – use any of 800+ Google Web Fonts
WordPress Grid Gallery Shortcode:
Simply wrap any existing shortcode tag with [smart-grid] shortcode open and close tags to bring awesomeness to your WordPress Galleries.



3. Final Tiles WordPress Gallery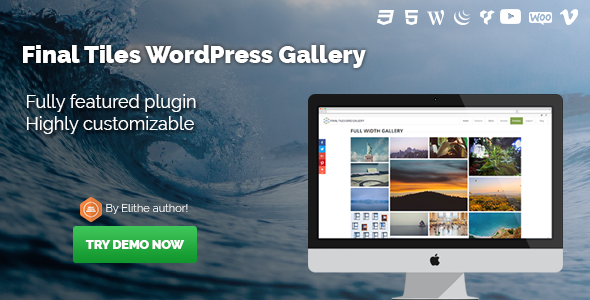 WordPress gallery plugin with 2 available layouts: Final Tiles (mixed image sizes) and Masonry (same image size). 6 months included support.
Now it supports also WordPress albums!
Final Tiles Grid gallery is a smart WordPress portfolio plugin that thinks outside the box. Powered by a brand new grid algorithm, Final Tiles offers an easy way to create a WordPress portfolio gallery using personalized images and custom aspect ratios. You'll have a lot of fun creating your own unique galleries that make a huge impact.
We are constantly upgrading and updating Final Tiles to ensure the best user experience as well as exciting new features that are sure to wow your viewers. This latest version is our best yet, with updated features and bug fixes.
Features:
Customizable grids – no set squares, rows and columns
Customizable aspect ratio
2 layouts: Masonry and Final Tiles
Albums
Customizable filters
Detailed manual so you know exactly what you're doing
True lazy load
User-friendly admin panel
Responsive / mobile-friendly
SEO friendly
Support
Video capabilities
Seven lightboxes
Customizable captions including animation
For detailed information on Final Tiles including how it works and how to get the most out of this smart WordPress gallery plugin, check out Kevin Muldoon's tutorials.



4. Justified Image Grid – Premium WordPress Gallery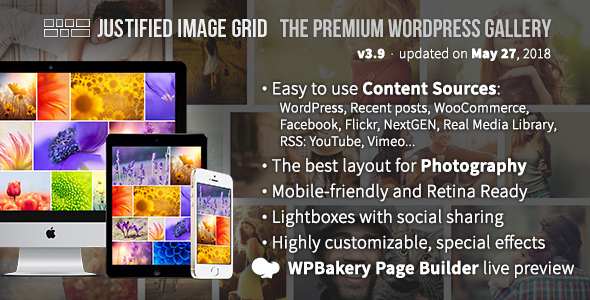 The #1 photo gallery on CodeCanyon – 18,000+ customers agree!
Justified Image Grid is a powerful and responsive WordPress gallery plugin, expertly designed to showcase your images in the most beautiful and authentic way. Whether you specialize in capturing magical wedding days, creative designs and innovations, expressive portraits, extraordinary architecture, or a journalistic exploration, your photos tell a unique story and deserve to be presented in their full glory.
Unlike many gallery plugins, Justified Image Grid for WordPress organizes your images into a perfectly balanced horizontal photo grid that draws the eye from left to right, just as you would read a narrative. There is a natural flow to your photographic story, and the images work together as elements of a complete whole. Most importantly, your images retain their original aspect ratio, so they display exactly as you intended.
What's more, this premium WordPress gallery is fully compatible with your existing sources. You can simply load content from Facebook or Flickr and see it transformed into a stunning gallery display, using jQuery. This versatile gallery plugin also makes it easy to completely remodel your new or existing NextGEN galleries, for a vastly superior display performance. Justified Image Grid works seamlessly with the premium WP Real Media Library plugin to bridge the gap between your albums and your gallery, giving you access to your native media library and effortlessly organizing your collections and folders.
For an even more personal and compelling gallery experience, you can add special effects to your photos, such as desaturation, softening, or black and white. This comprehensive gallery plugin also allows you to integrate a bundle of beautiful free and premium lightbox options into your Justified Image Grid WordPress Gallery, to define how your photos display after a thumbnail click. Mobile friendly and retina ready, Justified Image Grid gives you complete confidence that your gallery will perform flawlessly on any device, orientation or pixel density.
Ease of use – Justified Image Grid for WordPress is easy to install and gives you full control over every aspect of your photo gallery – no coding skills required! Simply set the plugin to automatically take over your existing WordPress galleries, or more experienced users can choose to tap into the detailed settings at every level. When combined with Visual Composer, the bundled add-on makes it possible to live preview any change of your carefully crafted galleries.
Support – Extensive documentation is freely available, to help you get the most out of your download. We also provide personal, genuine and in-depth support, covering technical and compatibility issues, and guarantee a fast response.
There's so much more to discover with Justified Image Grid for WordPress – get started today!
Few Features:
Visual aspects – take full control of your gallery:

– Automatic justified layout – Horizontal grid that leads the eye in the natural reading direction (LTR/RTL)
– Mobile specific settings that apply when a mobile device is detected
– Limit image count or maximum rows
– Hidden limit – limit the number of thumbs but see all images in the lightbox
– Aspect ratio, random width – Redefine the shape of the thumbnails, for more uniform or fuzzy grids
– Special effects – Such as de-saturate, blur / soften, sepia, glow – on the fly
– Responsive gallery – The gallery adapts to any width for different devices, screens and orientations
– Well-customizable – Overlay, border, shadow, icon on the thumbnails
– Flexible, dynamic row height with incomplete last row handling
– Retina ready – Thumbnails are served to match the screen capabilities of your device. Supports resolutions much higher than retina
– Thumbnail captions – Sliding and fading animation, polaroid look, translucent/gradient or blurry background, vertical centering and more!

Hundreds of settings with contextual help
Behavior – gallery extras:

– Custom links – Open a specific page or video
– Unconditional script loading with AJAX theme support
– Video gallery support – YouTube, Vimeo, self-hosted
– Conditional script loading – plugin files will only load when needed, not affecting other pages
– Filtering – Narrow the gallery by tags, categories, custom taxonomies
– Use multiple instances on the same page
– Load more – Speed up gallery loading, and expand it with a click
– Download link with browser pop-up to save the image
– Infinite scroll – Scroll to load more content to the gallery
– Right click protection against theft on thumbnails and in the lightboxes
– CDN compatibility – Your key to lightning-fast galleries
– Custom presets – Create and re-use a unique combination of settings

Shortcode Editor to style each gallery individually – and create template tags
Built-in presets to apply looks out of the box
Content sources – various sites and plugins you may already use
Breadcrumbs for sources that support album-gallery relationships
Lightboxes – bundled or mutually compatible
WPML and translation ready. It covers admin areas and applicable settings
Adds images to XML Sitemap with WordPress SEO plugin by Joost de Valk
Animated GIF and transparent PNG support
And so many more!!!

5. The Grid – Responsive WordPress Grid Plugin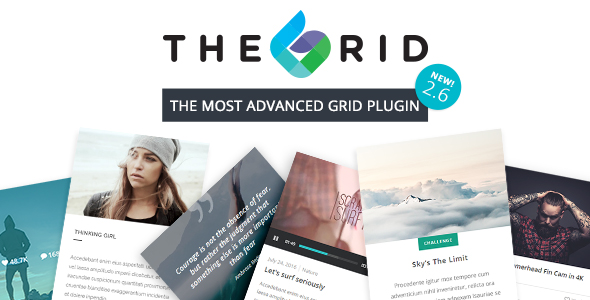 The Grid is a premium wordpress grid plugin which allows you to show off any custom post types in a fully customizable and responsive grid system. It is perfectly suited for displaying your blog, portfolio, e-commerce or any kind of WordPress post type. This plugin support the following post format: standard, video, audio, gallery, link, quote. Possibilities are unlimited and can be easily controlled thank to a powerful admin panel.
We especially took care about the loading speed performance by optimizing the queries and have created a custom and lightweight jQuery script. We have also built a custom cache system in order to boost performances.
The Grid plugin is the most advanced grid plugin for WordPress and also the only one with a 100% responsive touch slider. You can filter any kind of grid in this touch slider which is just unique. We have also added several filters for developer in order to add new skins, animations, navigation skins, preloaders animations. The Grid can be easily integrated in any WordPress theme and with a custom style…
Main Features:
Quick & Easy Setup
Works with Cornerstone
Post format support
Instagram stream (Users, hashtags)
Facebook stream (Public page, Group page, Album)
RSS feed (from any valid XML RSS url)
Compatible with PrettyPhoto, FancyBox & Foobox (premium)
Multi row slider
Combination filters
30+ Item Skins
Hosted/Vimeo/Youtube video
Adjustable Rows/Columns/Spacings
100% Responsive
SEO Optimized
Works with Shortcode
Works with Visual Composerg
Works with any post types
Skin builder
Woocommerce Integration
Youtube stream (Channel, Playlist, Videos)
Vimeo stream (User, Album, Group, Channel)
Twitter stream (User timeline, Tweets by search, User favorites, User list)
Flickr stream (Public photos, Photoset, Gallery, Groups photos)
WPML Ready
Built-in Lightbox
Built-in post like system
Vertical/Horizontal (slider) layout
Mix Contents & Styles
Instant search
13+ preloader animations
40+ Animation Styles
Hosted/SoundCloud Audio
One Click Import/Export
Built-in cache system
Mobile Friendly
HTML5/CSS3
Free Updates & Premium Support
Developer Friendly
And so much more…

6. Auto Grid Responsive Gallery – WordPress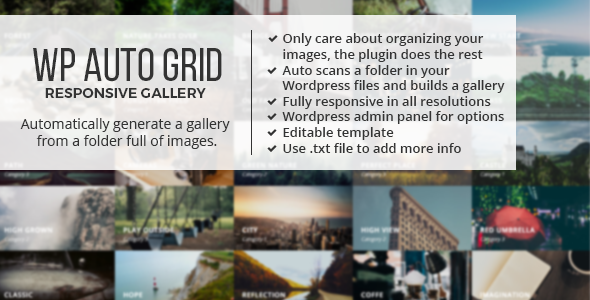 This is a Image & Video Grid Gallery WordPress Plugin that scans a folder in your WordPress installation and its subfolders containing images. The subfolders will be the categories that will appear at the top, and the plugin will make a grid responsive gallery with the images.
You only need to Drag and Drop images into a folder. And add the gallery in your posts or pages with a shortcode
You only need to take care of organizing your images in folders and if you want adding thumbnails.
The images are uploaded via FTP, so you can take advantage of the goodies of FTP uploads using droplets. For example: "transmit" (for MAC) or "FTP Droplet Lite" (for Windows)
Then you only would have to drag and drop the images into a folder in your desktop computer and that's it, the droplet will automatically connect to your folder in your WordPress.
KEY FEATURES:
Import & Export your settings
Scans a folder in your server and its subfolders containing images
.txt file support for adding youtube/vimeo videos, iframe, extra text, ratio, and more information
Fully Responsive Grid and Lightbox
Full width, the grid will adapt to the 100% of its container if you set the width of each column to 'auto'
Configure different layout for all kind of resolutions
Searching system
Lightbox with slideshow (play, pause, auto-play)
Order the images By Name, By Date or Randomly
Bootstrap is not be required
Deactivate and Activate Features through Javascript Options
Friendly WordPress admin panel
Don't need to code
Support thumbnails for the grid only to the images you want to improve performance
Accept Images of any dimensions
Deep linking
You can specify a static width for each column or specify number of columns
CSS3 Effects
Direction aware hover effect
Easy implementation ever so you can add it to your page super fast and easy, and also make more instances very quick (just by adding a HTML line of code)
Compatible with Twitter Bootstrap
You can link to another page when you click in a thumbnail
Free Technical Supporty

7. FAT Image Gallery For WordPress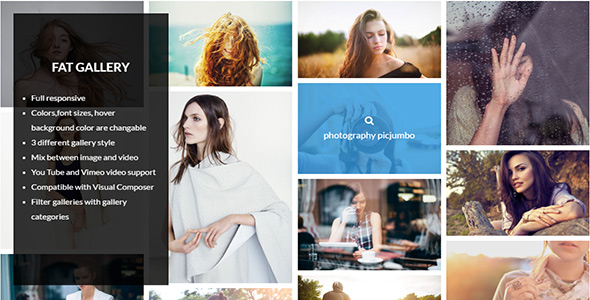 FAT Gallery is a premium responsive wordpress gallery plugin. There are 5 main gallery style : Masonry , Justified, Album , Carousel, and Grid . FAT Gallery compatible with Visual Composer . You can change all colors, font sizes, spacings etc. from powerful plugin settings panel.
Important Features:
Cross Browser Support
Well Documented
Ready for translation (.mo file is included)
Filter galleries with gallery categories
Compatible with Visual Composer
5 custom gallery shortcode
You Tube and Vimeo video support
Mix between image and video
5 different gallery style. Masonry style, Justified, Album , carousel style, and grid style (filter category)
Image size, colors,font sizes, spacings, hover background color are changable via plugin settings panel
Fully responsive clean design

8. DV Gallery – Responsive WordPress Gallery Plugin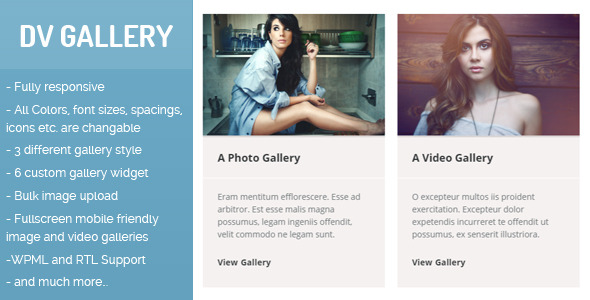 DV Gallery is a premium responsive wordpress gallery plugin. There are 3 main gallery style. Blog style, carousel style and grid style. You can use any of them to display your galleries. You can change all colors, font sizes, spacings etc. from powerful plugin settings panel.
Great Features:
Fully responsive clean design
Cross Browser Support
All Colors,font sizes,spacings,icons etc. are changable via plugin settings panel
Well Documented
3 different gallery style. Blog style (pagination is available), carousel style (autoplay is available) and grid style (filter menu is available)
Compatible with SiteOrigin Page Builder plugin
Fullscreen Responsive, Touch-Friendly and mobile optimized image and video galleries
RTL Support
Touch enabled responsive carousels
Ready for translation (.mo file is included)
6 custom gallery widget
WPML Plugin support
6 custom gallery shortcode
Organize your galleries with gallery categories
Bulk image upload is available
Add internal/external page links to the galleries
You Tube and Vimeo video support
and much more!!!

9. Video Gallery and Player Pro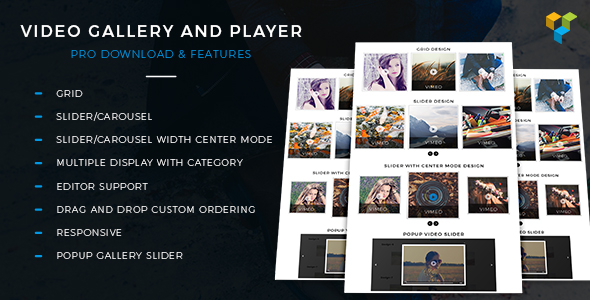 Current Version: 1.2.3
This plugin add a responsive HTML5, YouTube, Vimeo video gallery with Magnific Popup to your WordPress website. Display video gallery in grid view(1,2,3,4) etc You can also use category id to create multiple video galleries.
Added 15 designs:
– Grid, Slider/Carousel, Slider/Carousel with Center mode, Video Popup with slider;
– Option to add: video image, title, video short description and video link;
– Option to display video gallery with short content.
Main Features:
GRID DESIGN
SLIDER/CAROUSEL DESIGN
SLIDER WITH CENTER MODE DESIGN
DESIGN-8 FOR GRID VIEW(LOOK BETTER IN GRID-3 AND GRID-4)
POPUP VIDEO SLIDER
Powerful Shortcode Generator Tool:
You are able to setup the plugin as quickly as possible due to the Built in Live Shortcode Generator.



10. Grid Plus – Unlimited Grid Layout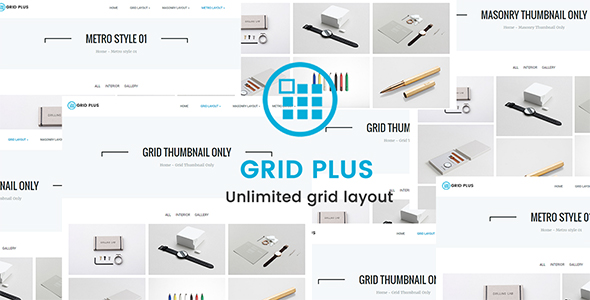 Grid Plus is a premium Image & Video Grid Gallery WordPress Plugin which allows you create unlimited layout and display all post types in a fully customizable and responsive grid system. It is perfectly suited for displaying your blog, portfolio, e-commerce or any kind of WordPress post type.
Important Features:
Fully responsive clean design
Unlimited layout
Add more skin by filter hook
Filter galleries with gallery categories
Well Documented
Unlimited color
Grid, Masonry, Carousel, Metro, Justified layout
Import & Export layout
Ready for translation (.mo file is included). Available: English, Germany, Spain
Quick & Easy setup
Export and import layout
Cross Browser Support

11. Hexagon Grid Gallery Addon for WPBakery Page Builder (formerly Visual Composer)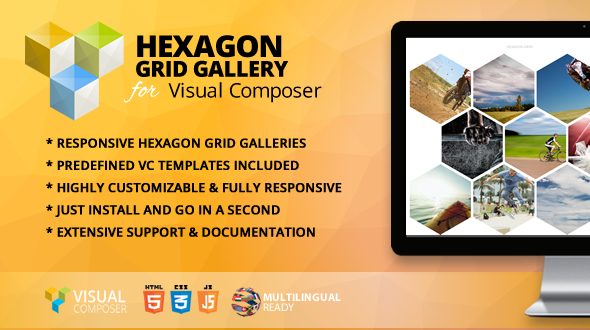 You can create responsive hexagon style galleries with Hexagon Grid Gallery Addon for Visual Composer WordPress Plugin on any page. Hexagon Grid Gallery addon will display your images and galleries awesomely in anywhere.
We offer live test drive, free item support and documentation.
Top Features:
Works with any theme or plugin!
Extensive free support & documentation
Create hexagon grid gallery in few second
Just install and go in a second
Predefined Visual Composer templates included
Highly customizable & fully responsive
One click predefined template/element usage
Works/Compatible with Standalone Visual Composer & Any Visual Composer bundled Theme

12. Everest Gallery – Responsive WordPress Gallery Plugin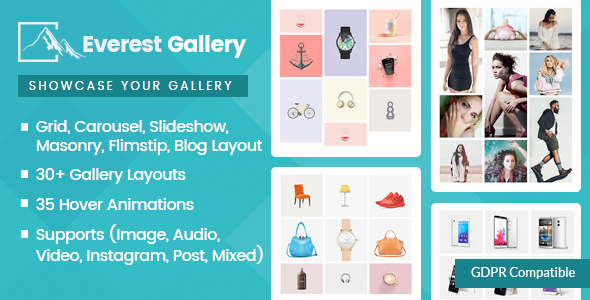 Everest Gallery is the most versatile WordPress gallery plugin tailored with amazing features and spectacular designs. It is the ultimate gallery plugin that supports audio, video, images, posts, instagram and mixed gallery. It offers tons of multiple options with flawless functionalities. Add many as gallery items as you like, quick edit and manage them however you want. The plugin offers multiple layouts including grid layout, blog layout, slideshow layout, masonry layout, filmstrip layout and carousel layout. Besides, each of this layout comes along with multiple sub-layouts and various configuration options. You can simply enable or disable hover effect for your gallery. Two hover type available – overlay hover effect with 35 pre designed layouts and filter image hover effect 10 pre designed layouts – choose any that better fits your need.
The plugin features:
pagination options – you can control the number of items per page, choose the pagination type (page numbers/load more) and select the layout for pagination
4 different lightbox type – each having multiple lightbox theme, to make your site look more delightful
custom CSS – if you are not satisfied with the options available you can add your own custom CSS and present your gallery as per your wish
fully responsive and shortcode ready plugin – it is an easy-to-use WP plugin with an intuitive interface
Everest Gallery Plugin will help you showcase your gallery in the most attractive way
30+ Different Layouts – 30+ seamless gallery layouts available. Showcase your gallery in the most appealing way:

– Grid – 2 Pre Designed Layouts
– Slideshow – 5 Pre Designed Layouts
– Carousel – 10 Pre Designed Layouts
– Carousel – 10 Pre Designed Layouts
– Blog – 7 Pre Designed Layouts
– Filmstrip – 5 Pre Designed Layouts

Column Configuration Options for Grid and Masonry Layouts – Grid and Masonry Layouts with column configuration options. Configure column as per the screen size, or as per the different devices such as Desktop, tablets and Mobile screens
Various Gallery items support – Designed for full flexibility – the plugin supports almost all the gallery items: image, audio, video, Instagram, posts
35 Pre Designed Hover Animations – Awesome overlay hover animations for fetching gallery items
Pagination Configuration options – Order your page items with easy pagination options: load more (10 Load More layouts with 16 Pre Designed loaders), Page Number (10 Pre Designed Pagination layouts)
Lightbox with various options – Showcase your gallery items in an alluring lightbox in just a touch: enable disable Lightbox, 4 different types of lightbox (Prettyphoto, Colorbox, Magnific Popup, Inbuilt Everest Lightbox)
Custom CSS insert option – Change the available design as per your wish – adding your own custom CSS
Backend Preview Functionality – Feature to preview in backend – test with ease before going live
Drag and Drop Gallery Ordering – Manage your gallery and gallery items' location by simple drag and drop
Easy to Use Backend UI – No need to be a technical geek to use the plugin, it is really intuitive.
Lifetime Dedicated Support
You can find us anytime when you have some queries, problems or with any valuable suggestions for plugin or us.
Constant Free Upgrades
Not fixed on dates, but we assure you to provide you new updates and feature upgrade in the plugin at regular basis.



Want to know about the 6+ Best Playlist Audio Player WordPress Plugins? Click Here!